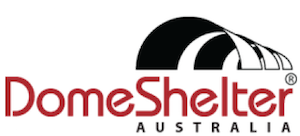 Address: 82 Byfield Street, Northam WA 6401
Phone: +61 8 9690 1100
Email: sales@domeshelter.com.au
Web: www.domeshelter.com.au

DomeShelter Australia offers a shade and shelter solution that is versatile, durable and above all dependable.
DomeShelter™ branded solutions use world's best quality UV resistant tear-stop fabric, proven to last for years in the harsh sun. With an industry leading warranty of up to 10 years, you can have full confidence in the durability and toughness of our shelters. Many of our shelters are located in cyclone high-risk areas and engineered to withstand winds up to the highest wind rating (Region D), still with up to a 10-year warranty.
DomeShelter Australia has manufactured and delivered over 5000 shelters throughout Australia and 22 other countries since 1996. So, we know shelters and are trusted by the world's largest mining companies.