Address: 185 Planet Street Welshpool WA 6106
Phone: (08) 6250 9800
Email: delliott@capsaust.com.au
Web: www.caps.com.au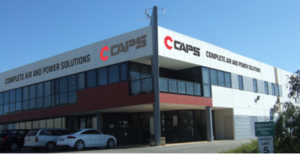 CAPS is proudly an Australian company with over 200 employees, becoming Australia's largest independent compressed air and power generation provider – it was all done with a focus on providing our customers with useful innovations, smart technical advice and solid aftermarket services.
Whatever business you are in, you need an industrial equipment company that takes care of the complicated stuff so you can focus on your job. We understand that you need energy efficient, robust reliable products that are guaranteed to work.
Our focus goes beyond just looking at your immediate needs to deliver a better outcome, letting you benefit from smarter productivity, a lower environmental footprint and enhanced profitability.