Address: Unit 1, 1–9 Kurnall Rd
Phone: 08 9352 9235
Email: SHayes@aalgroup.com.au
Web: www.aalgroup.com.au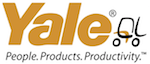 The combined strength of Adaptalift and Yale Forklifts means Adaptalift Yale is truly a full service materials handling company offering an entire suite of quality products and services.
Adaptalift Yale provides the most flexible total forklift fleet management solution in the industry, with several top 20 companies taking advantage of Adaptalift Yale's National Network.
Adaptalift Yale's reputation has been built on total commitment to customer service while providing customers with the most reliable, flexible and cost effective solutions to their materials handling and forklift fleet management requirements.